Main content starts here, tab to start navigating
Menus

Not available for Takeout. In house dining only.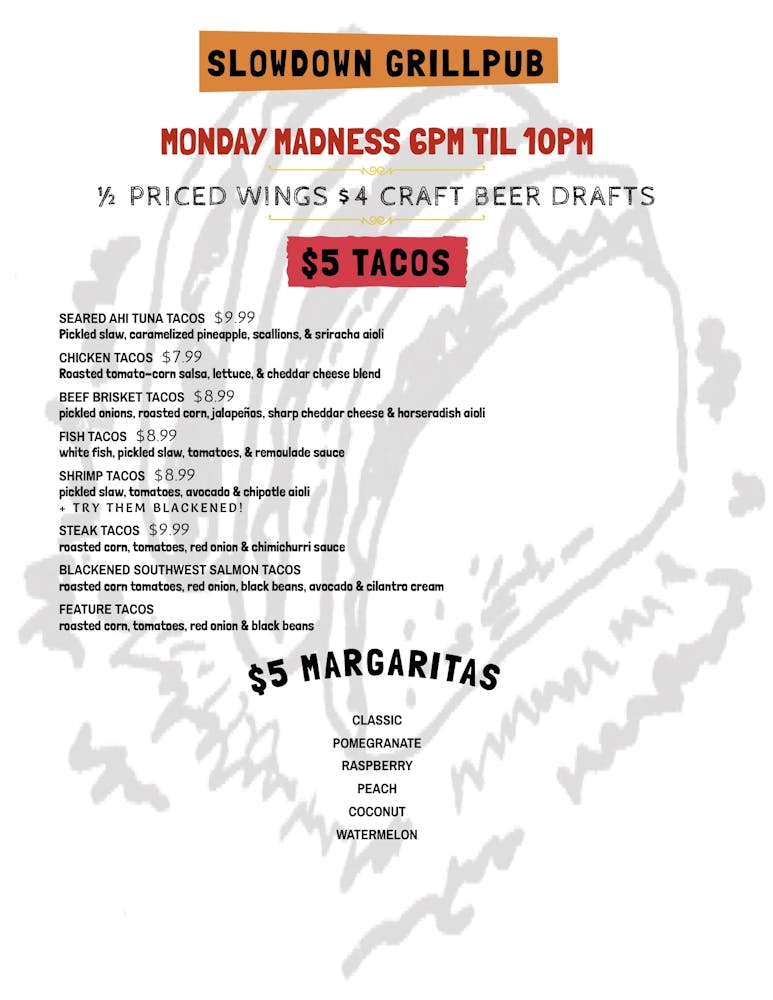 Not available for Take out. In house dining only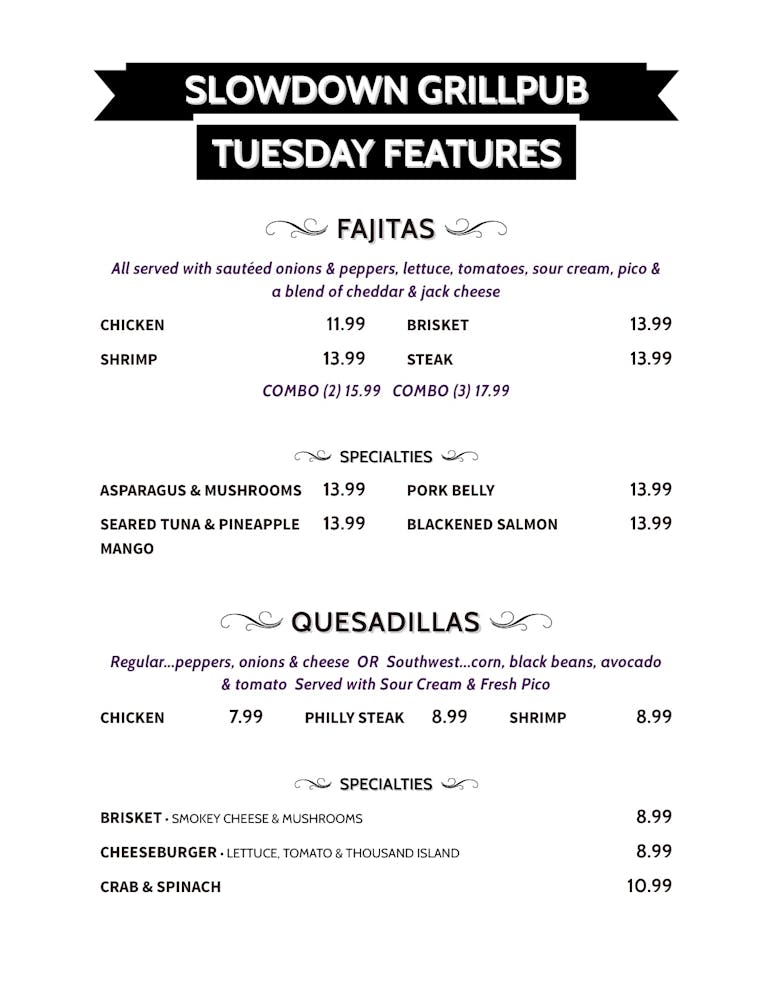 Not available for Take out. In house dining only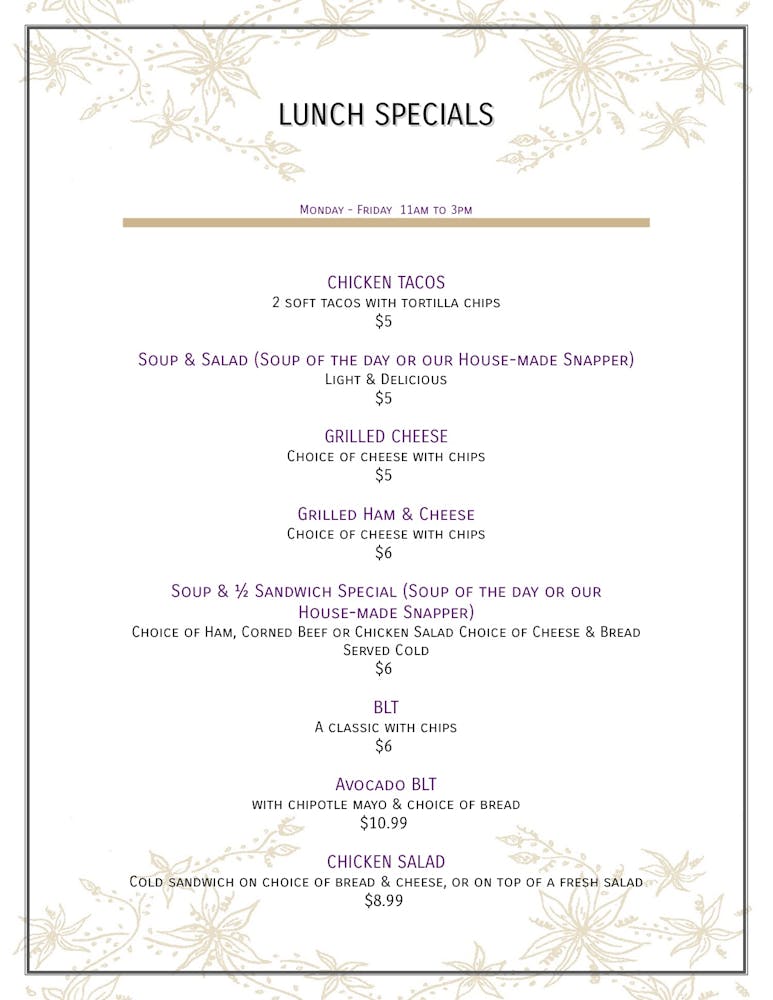 Not available for Takeout. In house only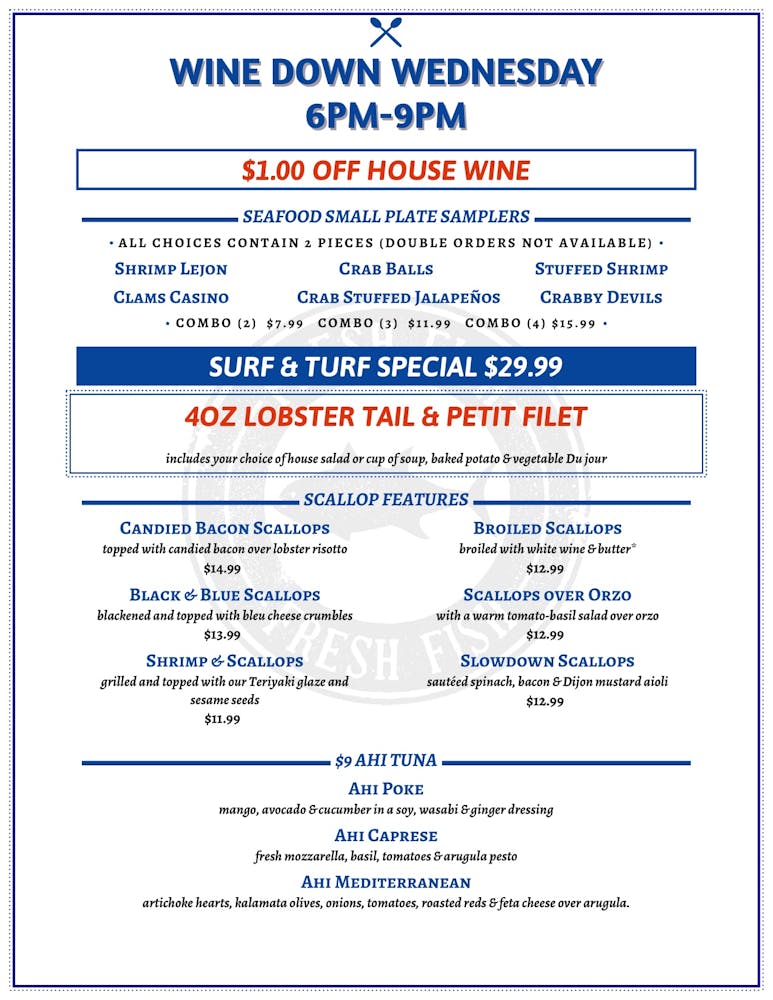 Not available for Takeout. In House dining only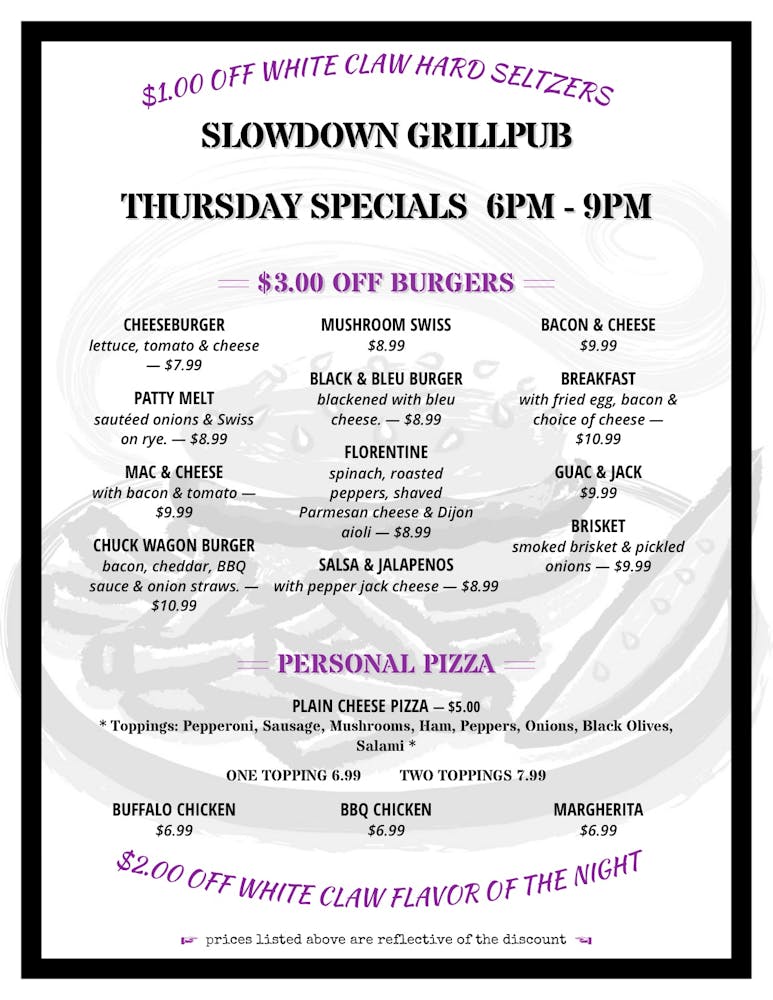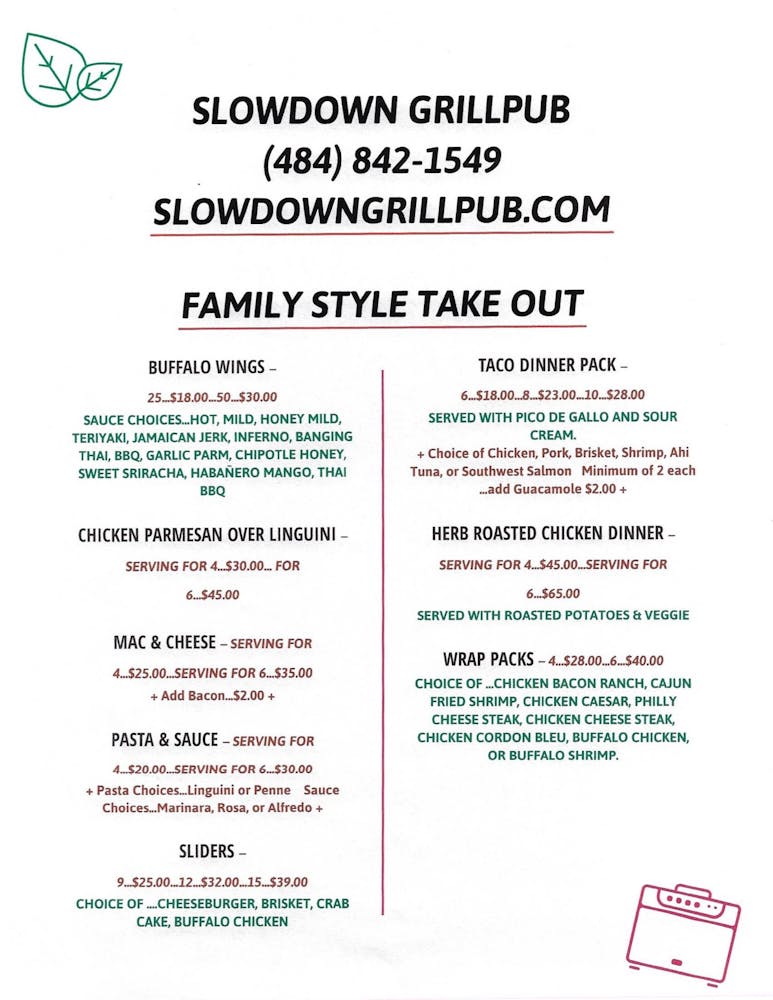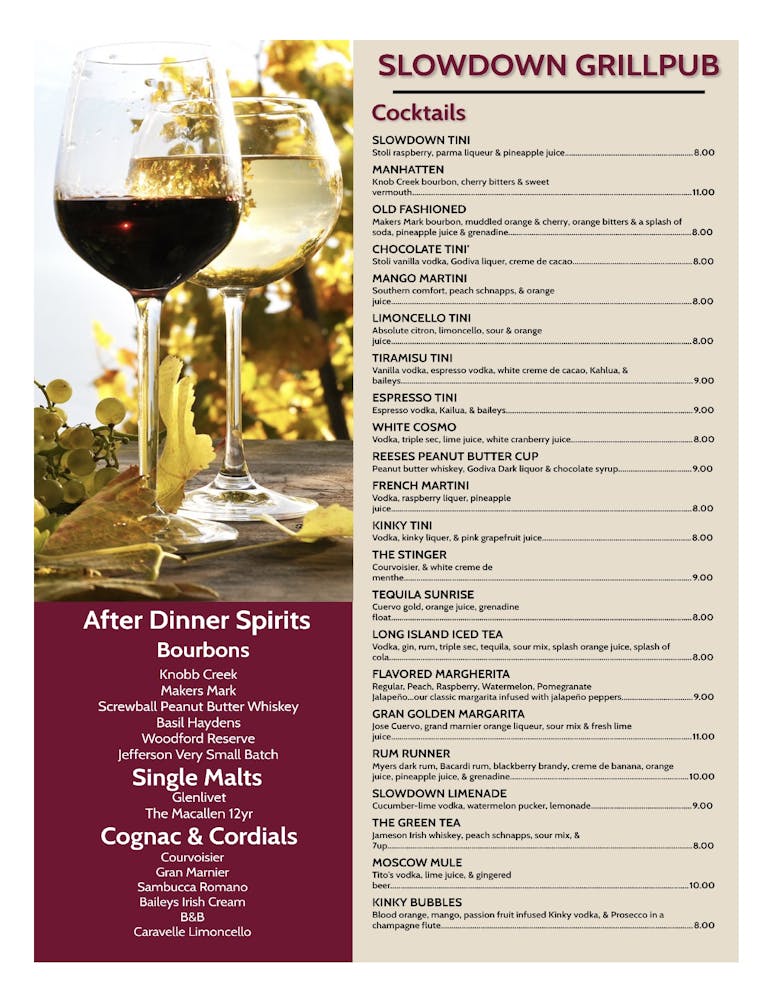 Cocktails
Slowdown Tini'

stole rasp, parma liquer, & pineapple juice

Manhatten

knob creek bourbon, cherry bitters, sweet vermoutn

Old Fashion

makers mark bourbon, muddled orange & cherry, orange bitters, sugar, splash of soda

Mai Tai

bacardi rum, myers rum, triple sec, oj, pineapple juice, topped with grenadine

Chocolate tini'

stoli vanilla vodka, Godiva liquer, creme de cacao

Mango Martini

southern comfort, peach schnapps, & orange juice

Limoncello tini'

absolute citron, limoncello, sour & orange juice

Espresso tini'

espresso vodka, Kailua, & baileys

Tiramisu tini'

vanilla vodka, espresso vodka, white creme de cocoa, Kahlua, & baileys

Reeses Peanut Butter Cup

peanut butter whiskey, Godiva dark liquer, & chocolate syrup

White Cosmo

vodka, triple sec, lime juice, white cranberry juice

The Stinger

Courvoisier, & white creme de menthe

French Martini

vodka, raspberry liquer, pineapple juice

Tequilla Sunrise

cuervo gold, orange juice, grenadine float

Long Island Iced Tea

vodka, gin, rum, triple sec, tequila, sour mix, splash orange juice, splash of cola

Flavored Margaritas

peach, watermelon, raspberry, pomegranate, coconut

Kinky tini'

vodka, kinky liquer, & pink grapefruit juice

Jalapeno Margarita

our classic margarita infused with jalapeño peppers

Rum Runner

Myers dark rum, Bacardi rum, blackberry brandy, creme de banana, orange juice, pineapple juice, & grenadine

Slowdown Limenade

cucumber-lime vodka, watermelon pucker, lemonade

The Green Tea

Jameson Irish whiskey, peach schnapps, sour mix, & 7up

Moscow Mule

Tito's vodka, lime juice, & gingered beer

Kinky Bubbles

blood orange, mango, passion fruit infused Kinky vodka, & Prosecco in a champagne flute
Beers on Tap
Bud Light. - Miller Lite

Yuengling Lager

2sp Delco Lager

2sp Up & Out

NE Ipa

Levante Tickle Parts

NE IPA

Conshohocken Brewing Type A

IPA

Blue Moon

Belgian white

Lancaster Milk Stout

Bells Two Hearted Ale

American Style IPA

New Belgium Accumulation

Sterling Pig Shoat Pilsner

Founders All Day Spa

Session IPA
White Wines
House Chardonnay

Berringer or Woodbridge

House Pinot Grigio

Berringer or Woodbridge

House Sauvignon Blanc

Berringer or Woodbridge

House White Zinfandel

Berringer or Woodbridge

House Moscato

Berringer or Woodbridge

Riesling

Blufeld

Prosecco

Bolla

Kendall Jackson

Chardonnay
Red Wine
House Cabernet

Berringer or Woodbridge

House Pinot Noir

Woodbridge

House Merlot

Berringer or Woodbridge

Chianti

Ruffino

Blackstone

Merlot

Paul West

Pinot Noir

Alamos

Malbec
Add potato & vegetable for $3
Crab Stuffed Jalapeños

stuffed with crab wrapped in bacon drizzled with lemon aioli

$10.99

Clams Casinos*

chopped clams mixed with parmesan bacon, onions, peppers

$11.99

Ocean Annie

2 clam casino, 2 crab balls, 2 shrimp lejon w/ sriracha cocktail sauce & lejon sauce

$13.99

Stuffed Shrimp

stuffed with house-made crab imperial with herb butter

$13.99

Salmon Bites

Wasabi crusted with cucumber avocado scallions and kewpie mayo

$11.99

Thai Trio*

grilled steak, shrimp, & chicken with thai peanut sauce, thai bbq sauce

$14.99
Shrimp Lejon*

shrimp wrapped in bacon w/ Dijon horseradish sauce

$11.99

House-Made Crab Balls

breaded house-made crab cake with sriracha cocktail sauce

$12.99

Steamed Clams

white, red, or fra diavolo over linguini

$12.99

$15.99
Black & Bleu Scallops*

blackened and topped with bleu cheese crumbles

$14.99

Slowdown Scallops*

sautéed spinach, bacon & dijon mustard aioli

$14.99

Broiled Scallops*

broiled with white wine & butter

$14.99

Shrimp & Scallops*

grilled and topped with our teriyaki glaze and sesame seeds

$13.99

Scallops Over Orzo

with a warm tomato-basil salad over orzo

$14.99

Candied Bacon Scallops*

topped with candied bacon with onions over lobster risotto

$16.99
Ahi Mediterranean*

artichoke hearts, kalmato olives, onion, tomatoes, feta, over arugula

$11.99

Ahi Poke

mango, avocado, cucumbers in a soy wasabi & ginger dressing

$11.99
London Broil Skillet

with mushrooms, onions, & potatoes in a red wine demi-glace

$19.99

Italian Sausage Caprese

grape tomatoes, basil, penne pasta, with melted fresh mozz and balsamic glaze

$14.99

Creole Jambalya*

shrimp, chicken, andouille sausage, with cajun seasonings over New Orleans rice

$18.99

Seafood Tortellini

shrimp, scallops, crab, spinach, roasted red peppers, in garlic parmesan sauce

$23.99

Baked Gnocchi Skillet

baked with ground beef, Italian sausage, Italian spices, marinara ricotta and mozz

$14.99

Pork Belly Fried Rice

braised pork belly stir-fried with Asian vegetables in soy sauce & ginger

$15.99
Slowdown Meatloaf

house made mashed potatoes, stout gravy, topped with crispy onion straws

$15.99

Filet Tips & Lobster

Filet tips cooked to order with mushrooms and a roasted tomato demi with asparagus over lobster risotto

$25.99

Broiled Seafood Combo

scallops, shrimp, crab cake, filet of fish with drawn butter

$20.99

Chicken Fontina

with shrimp, crab, asparagus, fontina cheese, herb cream sauce over risotto

$19.99
Baked Salmon

served with choice of dill beurre blanc, lobster cream, or brown butter sauce

$18.99

Chicken Parmesan

breaded and topped with marina & provolone with linguini

$15.99

Prosciutto Chicken

Stuffed with mozzarella and spinach topped with crispy prosciutto and roasted tomato sauce over pesto risotto

$16.99

Jagerschnitzel

Pinko breaded pork over house-made mashed topped with Hager gravy with roasted Brussels sprouts

$18.99
Short Rib

braised beef short ribs slow cooked mixed in our house-made mac & cheese

$16.99

Jumbo Lump Crab

jumbo lump crab meat, sharp cheese in our white cheddar house-made mac & cheese

$18.99

BBQ Pork Belly

braised pork belly & BBQ sauce mixed in our house-made mac & cheese

$12.99

Cajun Shrimp & Andouille

shrimp, andouille sausage, onions & peppers in a creole sauce baked in our house-made mac & cheese

$16.99

Homemade Mac & Cheese

Cavatappi baked with our cheddar & parmesan cheese sauce

$9.99

Add Bacon $11.99
Caesar or Tossed Greens *Salads

$9.99

Add grilled or blackened chicken $4

Add shrimp or steak $5

Add seared tuna, or crab cake $7

Salmon $9

Grilled Romaine*

grilled romaine hearts, tomatoes, red onion, crispy prosciutto, parmesan, basil drizzled with olive oil & lemon

$10.99

Caprese Salad

Tomatoes, fresh mozzarella, basil dollops of pesto and balsamic glaze

$10.99

Southwestern*

grilled corn, avocado, black beans, onions tomatoes in a tossed salad, with cilantro-lime vinaigrette

$10.99

Cobb Salad

tossed greens, tomato, egg, avocado, bacon, green goddess dressing, fried tortilla strips

$10.99
Slowdown Wedge*

iceberg lettuce, crumbled bleu cheese, bacon, tomato, & bleu cheese dressing

$9.99

Roasted Beet Salad*

greens, goat cheese, shaved Fresno peppers, toasted almonds, honey-sherry vinaigrette

$10.99

Sesame Chicken*

sesame chicken, mandarin oranges, on a tossed salad with thai vinaigrette

$14.99

Strawberry & Avocado*

with candied walnuts, shallots, feta cheese, and spring mix in strawberry vinaigrette

$10.99

Dressings

ranch, chipotle ranch, bleu cheese, 1000 island, caesar, honey mustard, vinaigrettes*, balsamic, thai, strawberry, honey sherry, lime-cilantro
Crab Fries

fries smothered in house-made crab imperial, cheddar cheese, & old baby

$12.99

Battered Onion Rings

Plain or spicy w/ petal sauce

$8.99

Potato Skins*

stuffed w/ cheddar & bacon

$8.99

Fried Aged Provolone

aged sharp provolone, roasted red peppers, garlic, balsamic glaze

$9.99

Pork Dumplings

pickled slaw & Asian dipping sauce

$8.99

Chicken Bacon Ranch Potato Skins

Topped with cheddar cheese

$8.99

Slowdown Sampler

5 chicken nuggets & fried mozz, 6 onion rings, 3 fried pierogies, assorted dipping sauces

$12.99

Pierogies (fried or sautéed)

sautéed onions & sour cream

$8.99

Fried Mozzarella Wedges

Freshly breaded, house made w/marinara

$8.99

Buffalo Chicken Dip

$9.99

Beef Wellington Egg Rolls

flank steak, mushrooms duxelles, smoky mozzarella, Dijon aioli

$9.99

Cheesy Crab Garlic Bread

Jumbo lump crab with parmesan, sharp cheddar, & creamy old bay sauce

$9.99
Fried Pickle or Zucchini Chips

southern delicacies w/chipotle ranch

$7.99

Shrimp Cocktail

5 marinated shrimp over pickled onions, capers, & tomato salad

$10.99

Pico de gallo & Chips*

$6.99

Lobster, Crab, & Brie Dip

House made served with charred toast

$15.99

Lettuce Wraps

Chicken: mandarin oranges, cucumbers, scallions, bell peppers, and peanut sauce Ahi tuna: cucumber, shallots,almonds, tomatoes, dill and horsey aioli

$8.99

$9.99

Charcuterie Board

An array of cured meats and fine cheese, with fruit, vegetables, ciabatta bread

$22.99
Quesadillas
sautéed peppers & onions, Monterey jack &cheddar cheese blend
Plain

$9.99

Chicken

$10.99

Philly Cheese Steak

$10.99
Buffalo Wings* or Boneless Wings

$9.99

Hot, mild, teriyaki, jamaican jerk, inferno, garlic parm, thai, chipotle honey, sweet sriracha, bbq
Margherita

tomatoes, fresh mozzarella, fresh basil

$9.99

BBQ or Buffalo Chicken

bbq sauce, cheddar, bacon or hot sauce, crumbled bleu cheese

$10.99

Pizza

marinara & mozzarella cheese

$8.99

Grilled Shrimp

andouille sausage, Monterey jack, tomato salad, sherry vinegar reduction

$11.99

Prosciutto & Fig

goat cheese, baby arugula, fig jam

$12.99

Braised Short Rib

with mushrooms, onions, & smokey mozzarella cheese

$11.99

Crab & Bacon

With jalapeños, roasted corn, red onions, sharp cheddar, and avocado cream

$14.99

Italian Sausage

sweet Italian sausage, roasted red peppers, broccoli rabe, parmesan

$10.99
Comes with tortilla chips & pico de gallo.
Seared Ahi Tuna

caramelized pineapple, scallions, pickled slaw, sriracha aioli

$9.99

Fish Tacos

white fish, pickled slaw, tomatoes, & remoulade sauce

$8.99

Beef Brisket

pickled onions, roast corn, jalapeños, Sharp cheddar, horseradish aioli

$8.99

Shrimp Tacos

Pickled slaw, tomatoes, avocado, chipotle aioli try them blackened

$8.99

Chicken

roast tomato-corn salsa, lettuce, & cheddar cheese blend

$7.99

Steak Tacos

roasted corn, tomatoes, red onion, & chimichurri sauce

$9.99

Southwest Salmon

blackened salmon, corn, tomato, avocado, onion, black beans, & cilantro crema

$9.99
(1/2lb of fresh ground prime special house blend) | (served w/lettuce, tomato, house made chips & pickle) |
Cheese Burger

$10.99

Add bacon $2

Add sautéed mushrooms $1

Add salsa $0.50

Add peppers $1

Add avocado $2

Add fried egg $1

Black & Bleu

w/ bleu cheese & blackened

$11.99

Patty Melt

sautéed onions, swiss on rye

$11.99

Chuck Wagon

bacon, cheddar, bbq sauce w/ onion straws

$13.99
Blackened Salmon

guacamole, bacon, lettuce, & tomato

$12.99

Tomato Mozzarella

house-made pesto, house-made mozzarella, balsamic glaze

$8.99

chicken $4

Ahi tuna or salmon $6

California Chicken

lettuce tomato, bacon, avocado lemon aioli

$11.99

Cuban Pete Sandwich

imported ham, roasted pork, Swiss cheese pickles & mustard

$10.99
Slowdown Sandiches
served w/house made chips & pickle
Hot Roast Pork

With cheese

$10.99

Add broccoli rabe or roasted peppers or ital. hots $1

Slowdown Sliders

3 sliders choice of cheeseburger, crab cake, grilled fish, or buffalo chicken dip

$10.99

Chicken Cutlet Parm

fried cutlet house-made marinara melted provolone on Italian roll

$10.99

Grilled Reuben or C.B.S

corned beef, swiss cheese on marble rye hot reuben style, or cold cbs

$11.99

Italian Sausage

Botto's sweet Italian sausage, sautéed peppers & onions on Italian bread

$10.99

Chicken Cutlet Italiano

fried cutlet with choice of broccoli, rabe or roasted reds, or Italian hots

$11.99

Crab Cake Sandwich

house-made jumbo lump crab meat cakes sautéed then topped w/ remoulade

$13.99

Brie & Bacon

With raspberry jam and apples on marble rye

$8.99

Prime Rib (upon availability)

beer braised onions, swiss cheese, fresh horseradish cream aioli

$12.99

Filet Tips Sandwich

with Cajun mushrooms bacon and cheddar cheese on a long roll

$12.99

Buffalo Chicken Griller

Our house made buffalo chicken dip grilled with bacon & jalapeño on ciabatta

$10.99
Wraps
served w/house made chips & pickle
Chicken Bacon Ranch

lettuce, tomato, bacon, ranch dressing

$10.99

Chicken Caesar Wrap

romaine, parmesan, Caesar dressing

$9.99

Philly or Chicken Cheesesteak

ribeye, onions, American cheese or wiz

$10.99
Hors D'oeurves (minimum order 20 pieces)
Buffalo Wings

25 pieces $20

50 pieces $38

100 pieces $72

Boom Boom Shrimp

25 pieces $25

50 pieces $48

100 pieces $94

Boneless Wings

25 pieces $20

50 pieces $38

100 pieces $72

Chicken Fingers

20 pieces $20

(choice of sauce for all above)

Shrimp Lejon

20 pieces $50

Coconut Shrimp

20 pieces $30

Pierogies

20 pieces $20

Scallops Wrapped in Bacon

20 pieces $55

Shrimp Cocktail

25 pieces $25

Mini Crab Cakes

20 pieces $50

Crab Balls

20 pieces $40

Spring Rolls

20 pieces $35

(ask about different choices)

Pork Dumplings

20 pieces $25

Potato Skins

20 pieces $20

Crabby Devils

20 pieces $25

Salads (serves 15 to 20)

tossed salad (choice of dressing), mix of iceburg & romaine lettuce with cherry tomatoes, cucumbers

$35

Caesar Salad

romaine hearts tossed with shaved parmesan cheese, seasoned white and rye croutons, caesar dressing

$40

Spinach Pear Salad

baby spinach, crumbled goat cheese, toasted walnuts, chopped bacon, champagne vinaigrette or choice of dressing

$55

Pasta Salad

$50

Potato Salad

$50

Cole Slaw

$35

Dips

served with pita bread or tortilla chips

Crab, Spinach & Artichoke $50

Buffalo Chicken $40

Pico de Gallo per qt

Guacamole per qt $35

Trays

serves approx. 20

Assorted Cheese Trays $25

Pepperoni & Cheese $30

Fresh Vegetable $25

Fresh Fruit $25
Pasta
Baked Penne

with ricotta cheese and marinara topped with mozzarella cheese and baked to perfection

serves 20 $40

serves 40 $75

Add Meatballs or Italian Sausage (serves 20) $50

Add Meatballs or Italian Sausage (serves 40) $95

Tortellini Carbonara

serves 20 $50

serves 40 $95

Add chicken, or meatballs, or Italian Sausage (serves 20) $60

Add chicken, or meatballs, or Italian Sausage (serves 40) $115

Add shrimp (serves 20) $70

Add shrimp (serves 40) $135

Cajun Penne Pasta

sautéed red and green bell peppers, caramelized onion, in a rich Cajun cream sauce

serves 20 $50

serves 40 $95

Add chicken (serves 20) $60

Add chicken (serves 40) $115

Add shrimp (serves 20) $70

Add shrimp (serves 40) $135

Vegetable Sautee with Penne Pasta

in a light garlic cream sauce

serves 20 $40

serves 40 $75

Add chicken (serves 20) $50

Add chicken (serves 40) $95

Add shrimp (serves 20) $60

Add shrimp (serves 40) $115

Seafood Lasagna

shrimp, bay scallops, crab meat, and spinach mixed with a creamy cheese sauce than baked between pasta sheets

serves 20 $90

serves 40 $175

Pasta With Sauce

serves 20 $40

serves 40 $75

Add chicken, or meatballs, or Italian Sausage (serves 20) $50

Add chicken, or meatballs, or Italian Sausage (serves 40) $95

Add Shrimp (serves 20) $60

Add Shrimp (serves 40) $115

Mac & Cheese

serves 20 $35

serves 40 $65

Add bacon (serves 20) $40

Add bacon (serves 40) $75

Add buffalo chicken (serves 20) $45

Add buffalo chicken (serves 40) $85

Starch & Vegetables

roasted potatoes, mashed potatoes, sweet potato mashed, fingerling potatoes, rice pilaf, sautéed broccoli, glazed carrots, green beans vegetable, medley, green beans almondine

serves approx. 20 $25 per pan

Sides

Broccoli Rabe (qt) $10

Roasted Red Peppers (qt) $15

House-Made Potato Chips (1/2 pan) $8

Italian Long Hots (qt) $15

Rolls $5 per dozen
Luncheon Meats Tray

ham, turkey & roasted beef w/ 2 cheese choices

Small Makes 24 $50

Medium Makes 36 $75

Large Makes 48 $95

Sliced Cheese Tray

choice of 2 cheeses

serves 25 $30

Relish Tray

lettuce, tomatoes, onions, pickles, sweet or hot peppers

serves 25 $25
Entrees
Seafood Jambalaya

shrimp, chicken, andouille sausage, cajun seasonings over rice

serves 20 $55

serves 40 $100

Chicken Cordon Bleu

chicken breast topped with ham & swiss cheese, & hollandaise

serves 20 $55

serves 40 $100

Chicken Chesapeake

chicken breast topped with crab imperial & lobster cream sauce

serves 20 $80

serves 40 $150

Chicken or Sausage Scaloppini

serves 20 $45

serves 40 $85

Roasted Pork Tenderloin

serves 20 $45

serves 40 $85

Sausage & Peppers

serves 20 $45

serves 40 $85

Meatballs

serves 20 $45

serves 40 $85

Grilled Herb Chicken

serves 20 $45

serves 40 $85

Bbq Pulled Pork

serves 20 $45

serves 40 $85

Roast Beef or Roast Pork w/ gravy

serves 20 $45

serves 40 $85

Chicken Parmesan

serves 20 $50

Chicken Marsala

serves 20 $50

serves 40 $95

Chicken Picante

serves 20 $50

serves 40 $95

Chicken Picante

serves 20 $50

serves 40 $95

Egg Plant Parmesan

serves 20 $50

serves 40 $95

Baked Flounder

serves 20 $50

serves 40 $95

Flounder Picante

serves 20 $50

serves 40 $95

Crab Cakes

serves 20 $90

serves 40 $175